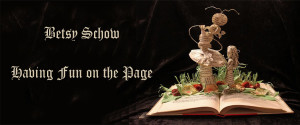 Check out the Media tab for Betsy's appearances on The TODAY Show, Wall St. Journal and more!
Thank you everyone for your patience on responses to questions and awaiting book 2, WANTED. It's been a crazy year with some major whirlwinds. A death in the family, a kiddo diagnosed and hospitalized with ASD, personal health issues and a cross country move. More writing fodder, right? But things are starting to settle down, and the next installment of the Storymakers is finished and in the hands of my editor.
W
hether I'm writing fiction or non-fiction, the heart that I put into my books remains the same. Fun, fast paced, with the underlying message that only
you
can create the happy ever afters in your life.
Read all about my first book and motivational journey in Finished being Fat. Or take new journey with me to the fairy tale flipside in my highly anticipated debut Young Adult Storymakers Series, Spelled. (June 2015) and the sequel Wanted (Feb 2017)