Spelled
When Princess Dorthea of Emerald makes a wish upon a cursed star, all spell breaks loose. It's up to her, a furry fiance, and a snarky kitchen girl to bring back the rules of Fairy tale before the wickedest witch in all of Story is set free. If she gets loose there will be no more happy endings. Ever.   Find out More!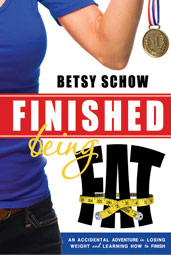 Finished Being Fat
Not everyone can win the race, but everyone can finish it. In her quest to wish away an extra 75 pounds, Betsy changed her life for good. Using her Philosophy of Finishing, she snowballed her efforts from weight loss into a bucket list of seemingly impossible dreams. This inspiring account of one woman's journey will help you find the strength to conquer your most daunting goals and unfinished projects. Find out more!
Trouble's on the Menu
After her estranged husband's unexpected death, Hallie goes to Barefoot, Montana, to wrap up his estate. Her arrival begins awkwardly as she nearly runs over the town gossip during a snowstorm. Fortunately, the single, attractive town mayor is willing to lend her a hand to get her affairs in order. But when his life starts to spiral out of control, Hallie must decide whether he's worth sticking around for. Find out more!